Printing & Mounting Your Prints
Most members make their own prints using a variety of colour printers and papers but trade processed prints are also welcome. Printing is too large a subject to cover here, but if you're not sure, ask other club members for advice.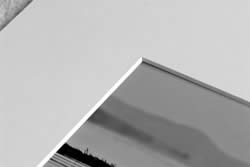 Prints have to be mounted onto mounting board which must be 50cm x 40cm in order to fit our display frames. The picture itself can be any size within this mount. Mounting can vary from sticking your print directly onto the mounting card, to professional window mounting, using appropriate cutting equipment. Window mounts can be bought from framing shops. You can also get standard apertures from art shops or web suppliers such as https://www.paperspectrum.co.uk/.
Entering the competition
On becoming a member you are automatically given an author number or 'Competition' number which can be found on your 'My Account' page when you are logged in to the website. Next to your 'Competition' number you will also find your league allocation e.g. Competition Number: ??? - Print: Colour League ? - Mono League ? - PDI: PDI League ?
If your Print League allocation is 'none' then please email the print secretary, Rod Wheelans - print@dumfriescameraclub.co.uk and indicate your intention to enter the that competition so he can update your information on your account.
Fill out online details and uploads
You MUST submit your titles and a digital PDI version (see entering PDIs page for guidance on preparing a PDI image correctly) of your print online by the due date, usually before you hand-in the Prints.
To do so simply click on the 'enter print' button in your orange members' menu bar. Click on the competition you want to enter. Click on the upload title/edit button for either Colour or Mono. Click 'choose file', browse your computer, select and upload your image.
Fill in the title of your image in the 'PDI image title' field. Do not add your name to the title of your image or any full stops, underscores or file extensions like .jpg for example - just type in the title of the image only.
Repeat as necessary for colour or mono. If you choose to enter the same image in either colour/mono Print or PDI then you must use the same title for that image. If you hand in Prints but have not uploaded the Titles or Images by the Closing Date your entry will not be accepted. If you do not have internet access ask Rod for advice or ask another committee member to help.
Submitting Your Prints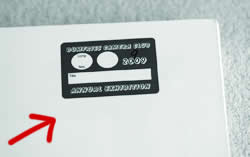 Get a print label. You need to download the PDF file for printing your own Club Competition labels or download the annual competition labels (both can found here). The template that downloads fits A4 label paper, with 8 labels to a sheet such as Avery J8165 or Ryman's in Dumfries: Ryman 100 sheets Universal Labels Suitable for Laser/Inkjet "P8". Download the file and print at 100% scale. Fill it in and stick it in the TOP LEFT HAND corner on the back of the mount either landscape or portrait.
A judge will assume that the label orientation indicates which way up the image should be viewed. Then bring your Print(s) along to the appropriate hand-in evening. The maximum number of prints you can enter is 3 per section. Below is an illustration of how to fill out the label.